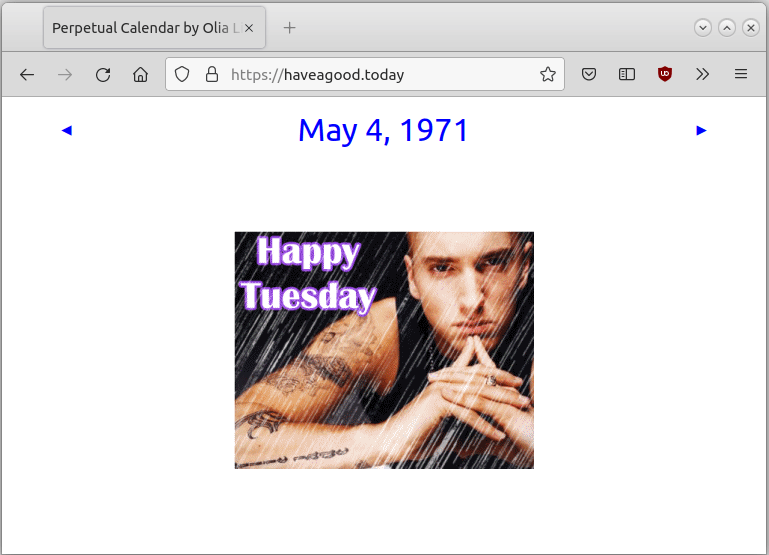 Perpetual Calendar builds upon the rich digital folklore tradition to start a day on your social network by wishing each other a good one in the form of an image, often animated, and most likely glittering.
Vernacular web has different facets, that can't be reduced to usual suspects: dancing baby or LOL cats or "under construction" signs. When in the 3rd decade of the 21st century I'm asked what can be seen as Digital Folklore today, I say Blingee.com, Lyric Videos on Youtube, … good morning greetings on… actually anywhere where you can attach an image to your post, but mostly where you can attach an animated image.
Glitter quotes and have a nice day wishes is a subculture.These images are neither memes, or reaction GIFs, not classic 90's GIFs. They belong to the 3rd millennium and mark the dramatic shift. In the beginning of the century a new social networks routine — to wish a good (nice, great, sexy,…) Monday (Tuesday, Humpday,…) with a self made or found graphic — replaced "Welcome to My Home Page" greetings and relieved the ever growing urge for updates.
With https://haveagood.today/you can go to the future and the past, checking what day of the week were you born, or on what day of the week New Year 3000 is going to be. At the same time you can see it as a flipping through my collection of the graphics that represent an important layer of vernacular web.
1/4 ?To celebrate our 25th Anniversary, we commissioned @GIFmodel to create a new work contemplating 2046 & the future of the Internet.
?Behold "Perpetual Calendar" ?–allowing you to flip thru past & future with @GIFModel's rich vernacular graphics.
https://t.co/L6saFO1qNV pic.twitter.com/KOSdgFi1sT

— Internet Archive (@internetarchive) October 28, 2021
I'd like to thank  The Internet Archive for commissioning the work for their 25th anniversary! And Dragan Espenschied for transforming the collection into a calendar that will work forever and on all the platforms!