Ten years ago, on the 7th of February 2013 at 11:07 CET, the very first screenshot of a rescued and restored GeoCities home page was published on the Tumblr blog One Terabyte of Kilobyte Age Photo Op.
Bruce's Home Page was a fortunate exemplar to open the project with. Although it doesn't have a lot of content and doesn't look particularly spectacular, it offers a good deal of graphic and structural elements and verbal expressions to start a conversation about the web of the mid 1990's and introduce the material we at the GeoCities Research Institute have at hand. The page can be discussed as an early web page, as a web page on GeoСities, and as an artifact of the archive. One could write a book about it, but let it be a series of 3 blog posts. And since it is a 10 years anniversary I'll start with a little sensation.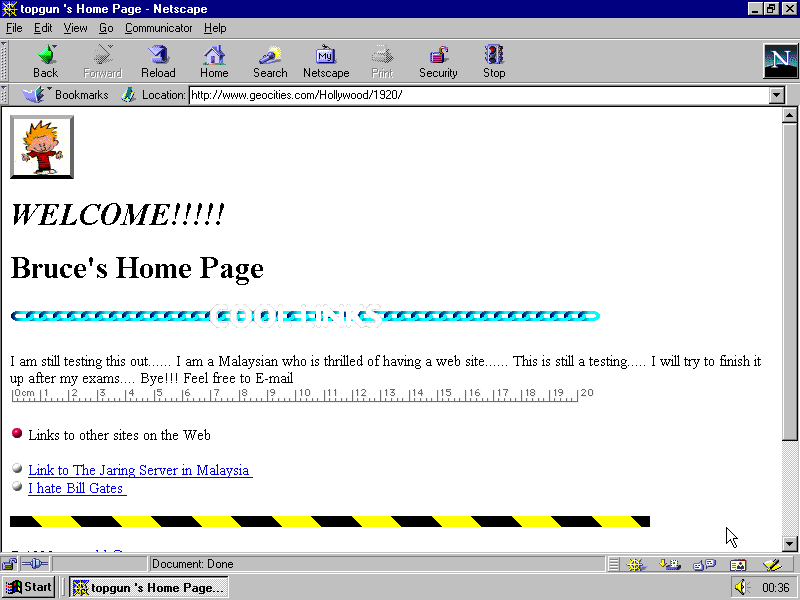 "Bruce's Home Page" or, by its semantic title, "topgun's Home Page", as visible in the browsers title bar on the top left, is a simple page. There is not much more to it than what is visible on the the screenshot. If you compare it with the actual page you're only missing a footer containing an email link, a link back to the Hollywood neighborhood, a broken 

Beverly Hills Internet icon (this  is how the company that started GeoCities web hosting service was originally called), a second under construction ribbon, and a copyright note "© 1995".
The only thing we get to know about the author is that he calls himself Bruce and that he is "a Malaysian who is thrilled of having a website". We assume he is a young Top Gun and Calvin and Hobbes fan. (More on the Calvin and Hobbes mystery will be discussed in part II.) He also seems to know something about computers, at least this is how I interpret the "I hate Bill Gates" label of the link he pointed to microsoft.com

Bruce assured that there would be more content after his exams, but he didn't keep the promise.
From the metadata we know that the page was last updated on 1995-09-30 08:39:49, the copyright notice in the footer is an additional proof. There is no note on when the page was originally created. But the amount of content and the content itself suggest that the last update in this case coincides with the creation date or is very close to it.
In 2018 Dragan Espenschied analyzed our archive to find out the active time of GeoCities user accounts by comparing the last modified dates of the oldest and newest files edited by a user in their directory of the GeoCities server. (More on it in part III.) The results suggest that Hollywood/1920 we see on the screenshot is indeed a one day effort, it was last modified on the same day the account was established.
However, we could now find out, that the next two weeks Bruce was working on the rest of his Top Gun website and had quite ambitious plans. On October 15 he uploaded the last file – msab.html – a page that was supposed to provide information about Bruce's college Maktab Sultan Abu Bakar. Yes, believe it or not, in 1995 you could make a web page for your college.

As it happened with index.html, msab.html too was left forever under construction. But! it had a link to topgun.html – the file that Bruce was aiming to use as his home page one day later:
"Hello…Welcome to my web site. This site was opened on the 16th of October 1995…. It is currently in the development stages. The information on this site is mainly on myself and a few links which I like."

For some reason he never renamed topgun.html to index.html… But it is not the end of the story. This soon-to-be index page had links to several other pages – a link list, MSAB, news, and bruce.html – the file that revealed that the webmaster is not Bruce or Bruce Banger, but 16 year old Ganesh Kumar Bangah from the Malaysian city of Johor Bahru.

Yes, it is Ganesh Kumar Bangah, whom mass media usually refers to as "Malaysia's Bill Gates". In 2002, at the age of 23, the Malaysia Book of Records listed him as the country's youngest CEO. In 2000 he founded MOL, the company that is responsible for many dot.com and post dot.com e-commerce startups in Southeast Asia.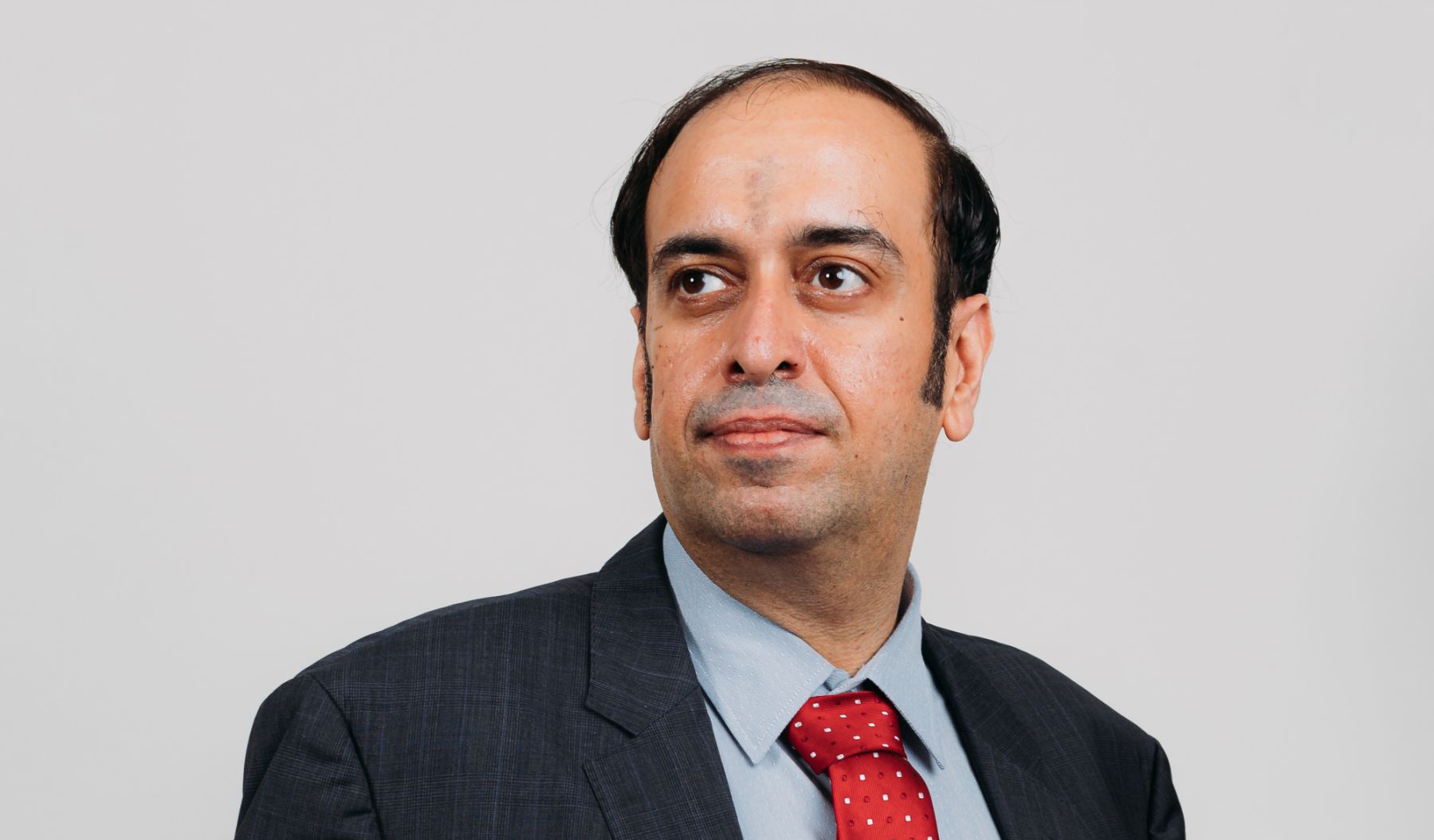 World wide he is remembered for buying social network pioneer Friendster in 2009 and turning it into a social gaming site.
Today, Mr. Bangah, as someone in "the constant search for the next big thing in tech", is of course into web3.
Since 2019 I have tried to contact him to ask why didn't he finish the page for the college? Why was topgun.html not turned into index.html? I'd like to know more about his love-hate relations with Bill Gates (see his confession in the talk he gave on the occasion of acquiring Friendster). I want to know more about what was happening in his life between 1995 and 2000. My interview requests don't come through, so I have to rely on publicly available sources.
My curiosity is partly satisfied by a 2013 feature in Tech in Asia:
"Ganesh started work at age 17 in 1997 when he was still an undergraduate. He worked as a promoter in a Johor-based company, Cyberfield. Cyberfield does development, runs cyber cafes, and also produces a cyber cafe management software that it sells to other such cafes. After working there for some time, Ganesh dropped out of university to focus on the company because of the potential he saw. It was a decision that he doesn't regret but doesn't encourage either."
Still I don't loose hope to ask him one day about Bruce Banger and why he chose Calvin and not Hobbes as his avatar.