Ten years ago, on the 7th of February 2013 at 11:07 CET, the very first screenshot of a freshly restored GeoCities home page was published on the Tumblr blog One Terabyte of Kilobyte Age Photo Op. Since the start of this project more than 231,000 screenshots showing the pages in their original software environments were circulated, inviting a new audience to discover and make sense of the history of user culture on the web. We still have approximately 160,000 pages to come, which will probably take 4 more years.
In this post I collected 10 most popular (+ 1 relatively popular) screenshots of the first 10 years. We turned many into video with sound, some pages are restored and can be explored on the live web.
#1. Kylie's Home-Dog Page
84059 reactions
Last modified 2002-10-08 02:22
Posted 2019-02-27 22:20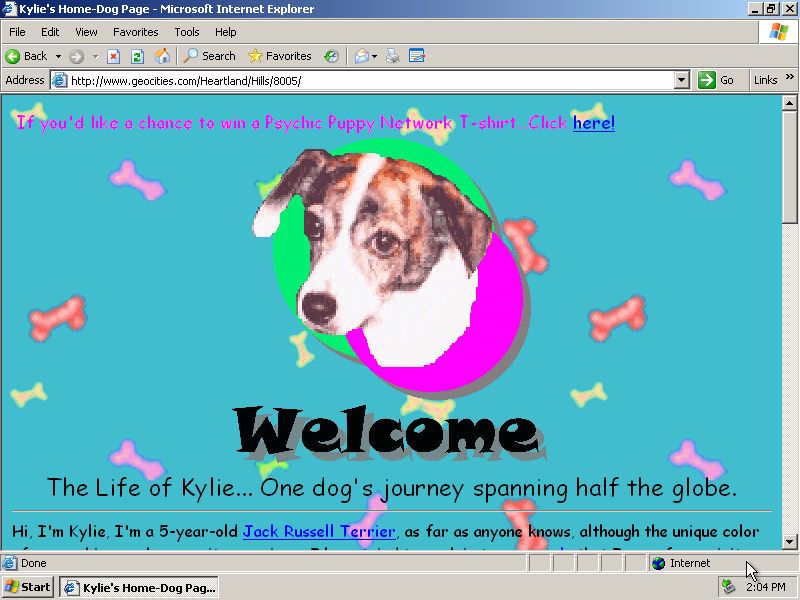 The absolute leader. This screenshot got reposed, liked and commented as no other was. No wonder! It is incredibly cute and it is made by Kylie herself (you may want to read more about dog webmasters).
Apart from that, this is a famous website that was started in Heartland/Hills but soon became http://www.kyliedog.com/, which gathered a lot of fans and was featured in mass media.
Kylie died in 2009, but the website is still online as well as another one her family made for her http://twogirlsandadog.com/, it was last updated in April, 2017.
Though you can almost fully explore the universe of Kylie's pages and blogs on the contemporary web, one thing is missing — the audio file bark.wav playing in the background of her original GeoCities website. We video recorded the home page so you can here Kylie's voice. Don't forget to turn up the sound:
---
#2. without <title></title>
37942 reactions
Last modified 1999-02-08 07:04
Posted 2014-05-08 02:20
My personal favorite. A gem in the Give Me Time/This Page is No More collection. The screenshot with a full "reaction GIF" potential.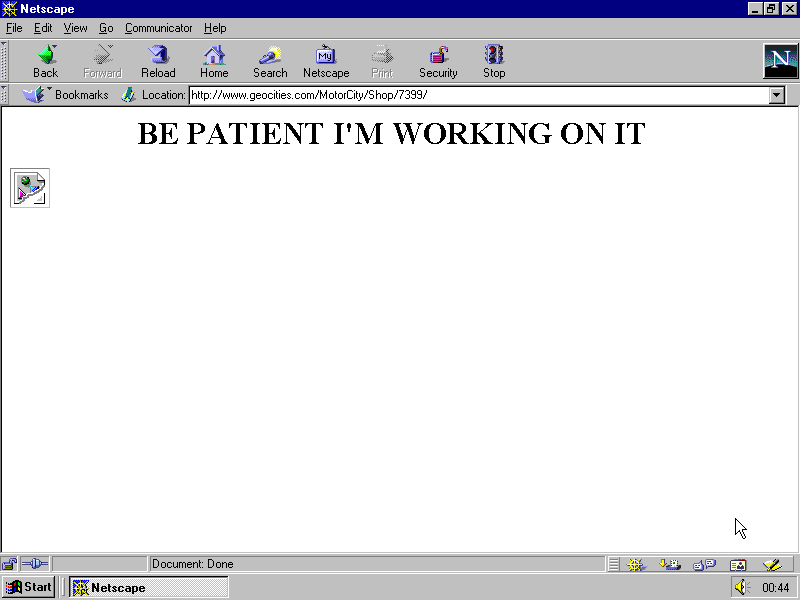 ---
#3. Atulrg.com Free Flash
22460 reactions
Last modified 2000-07-27 22:14
Posted 2016-08-10 13:17
One Terabyte of Kilobyte Age followers appreciate bold messages and repost such screenshots enthusiastically.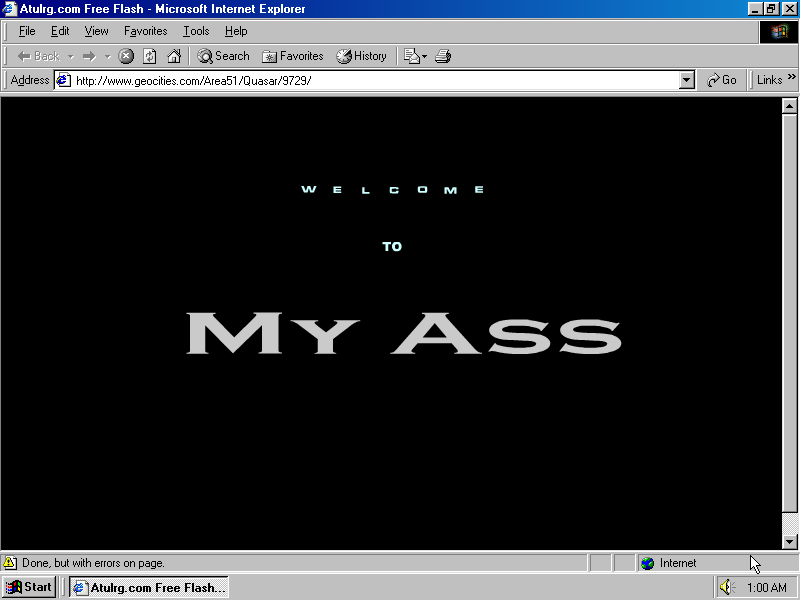 As one can assume from the title the page is not static. It is a short animation, a flash intro, which was very important for web designers at the turn of the century. Usually flash intros had a link or button below them to "skip intro" if users wouldn't want to wait for the animation to conclude before they could see the rest of the website. No such link at Area51/Quasar/9729! That's an intro you would never want to skip. We recovered and recorded it for you. Activate sound to hear the majestic music!
---
#4. Fuck the Dumb Shit!!!
12909 reactions
Last modified 1999-08-25 11:08
Posted 2015-01-21 04:00
I don't know if any of the followers who made this screenshot popular ever took an effort to see where "continue" would lead. I regret I did. It is a "humorous" extremist website, filled with explicit, violent images.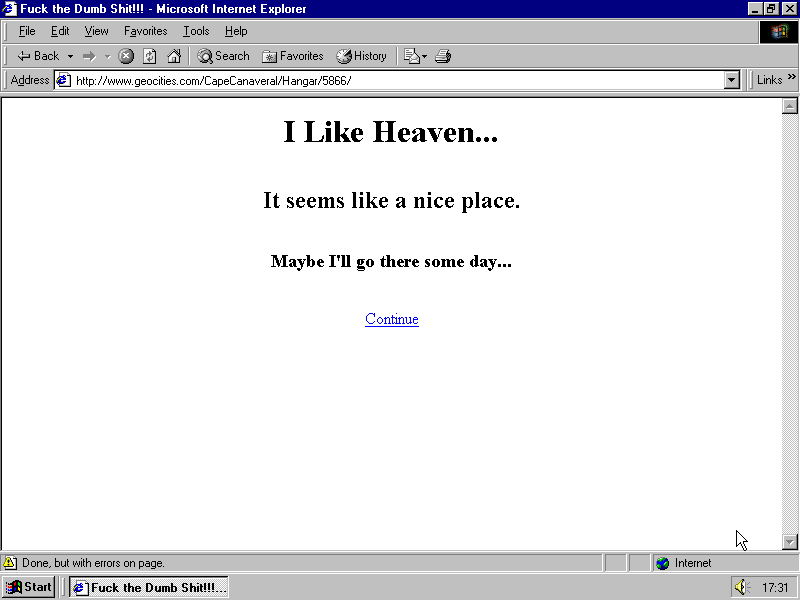 ---
#5. happy land
10837 reactions
Last modified 1999-11-12 19:52
Posted 2015-07-30 15:39
There are 101 occurrences of "happy" on this page. And a link in the bottom that used to lead the site of an anonymous person, who in 1997, being in 7th grade, started to make online games in HTML and JavaScript, and strongly believed that it's the future of the gaming industry.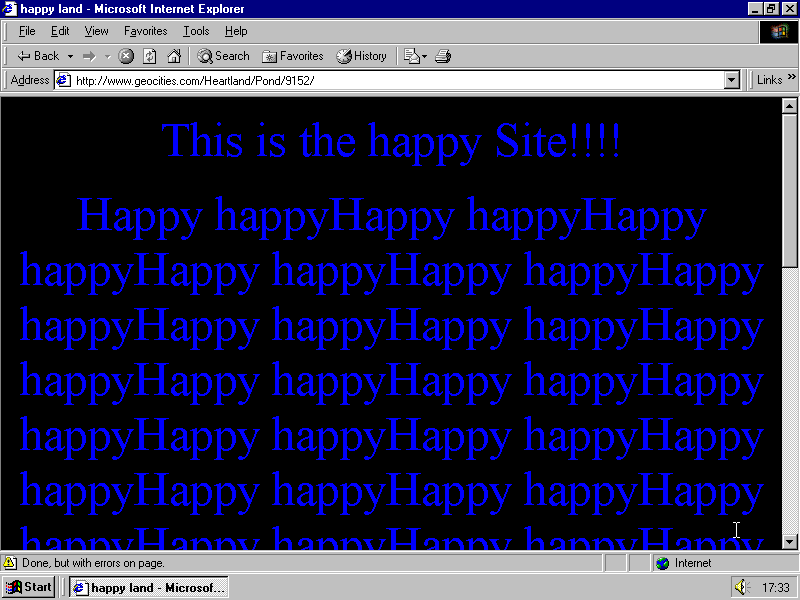 ---
#6. Divorced Dads Page
10556 reactions
Last modified 1997-08-11 18:13
Posted 2013-04-28 00:20
This screenshot was posted only two and half months after the project had begun, and immediately became very popular. As counted on the first anniversary , it had 10412 notes. Visit the resurrected version at http://geocities.contemporary-home-computing.org/www.geocities.com/Paris/7172/ or enjoy the silent video capture below.
You may be interested to read Dragan's post about the first anniversary restoration, and Rhizome's editorial by Michael Connor I (No Longer) Have a Web Site: Access, Authenticity, and the Restoration of GeoCities, published in February 2014.
The following 9 years it didn't receive more attention unfortunately.
---
#7. hi
9676 reactions
Last modified 1999-10-29 09:51
Posted 2015-04-25 12:20
Screenshots are just screenshots. You can't scroll  them, you can't click through them. Otherwise you would go through the list of 18 FUCKs, noticing that not all of them are hyperlinks and that only one of the links leads to the actual home page of the humble webmaster.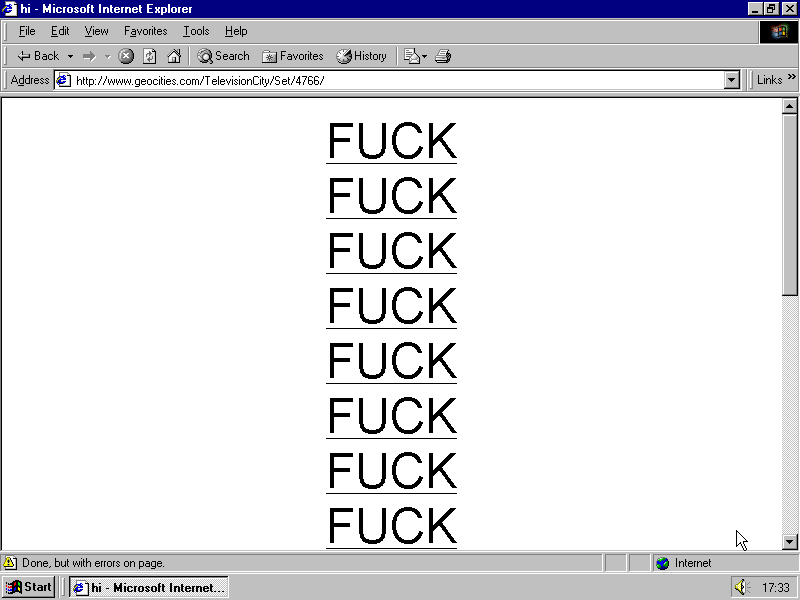 ---
#8. Hi
9389 reactions
Last modified 1998-02-22 18:32
Posted 2013-08-03 12:20
Cute boy was restored nine years ago for the first anniversary and resides now at http://geocities.contemporary-home-computing.org/www.geocities.com/Hollywood/Theater/1048/
(Read my remarks for #6 for further links and the context.)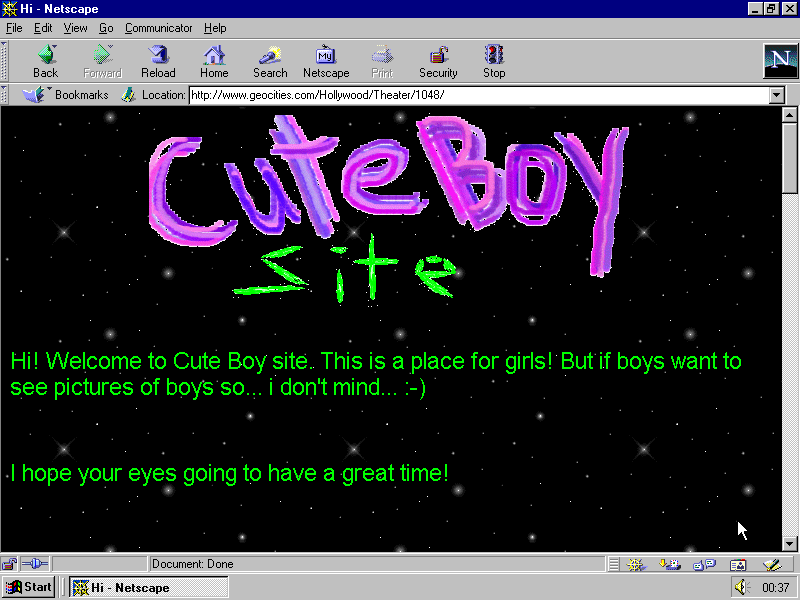 ---
#9. Bobby's Web Space
7912 reactions
Last modified 1998-09-16 12:45
Posted 2014-01-04 10:20
The home page of proud web site owner Bobby was as well in the top 3 on our first anniversary. The restored version, with MIDI music rendered to a regular audio file, is available at http://geocities.contemporary-home-computing.org/www.geocities.com/Tokyo/3269/. Make sure you set permissions in your browser for the site to play audio!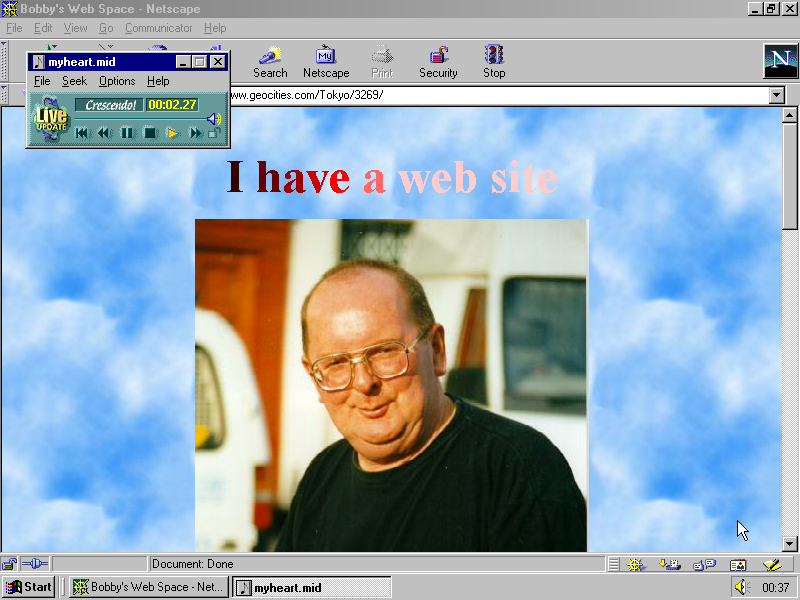 ---
#10. SPICE GIRLS!
7393 reactions
Last modified 1997-03-23 14:17
Posted 2013-03-09 17:00
A great example of a classic mid 90's fan webpage is concluding the top 10 of the first 10 years. It is eclectic, multimedia, and very well organized. We scroll through the screenshot for you in the MIDI rhythm of the immortal Spice Girls hit single "2 Become 1" .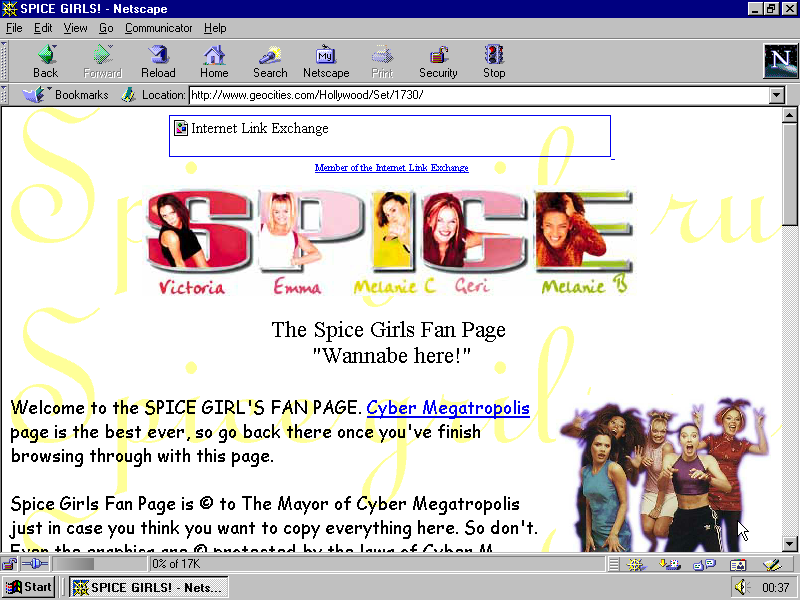 ---
#1218. Spicy Dance
162 reactions
Last modified 2000-04-17 07:17
Posted 2016-03-17 16:18
After 10 years of posting screenshots, we at the GeoCities Research Institute can understand and explain why a certain screenshot got popular. But we are also often puzzled why some went unnoticed and under-rated. Why SPICE GIRLS! received 7393 reactions and Spicy Dance only 162? It's unfair! Please look at it again! Like and reblog!
An elaborate screencast with more Spice Girls MIDI hits is waiting for you below.